Introducing Stream Networks Ethernet Cloud Firewall Service. Plug your Fibre Ethernet Leased Line directly into your Local Area Network (LAN) and manage your security and IP addressing directly from the Cloud using our State of the Art management portal.
Easily add in additional sites to create a futureproof private network and manage this network without any of the complexity of the past.
Using this service from Stream Networks allows you to say goodbye to your router and say hello to next-generation Ethernet. Whether you are managing 1 site, 100 sites or 1,000 sites, this is the solution for you.
As can be seen in the diagram below, each site has its own individual firewall, with the Fibre Ethernet Leased Line connecting directly to the Local Area Network without the need for any more equipment.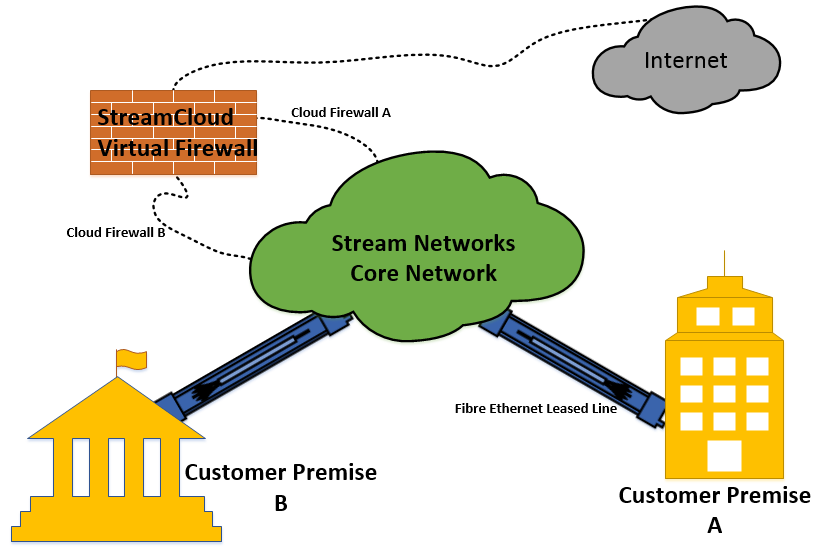 For further information, or to request our services please call 01635 884170, email sales@stream-networks.co.uk or click "Can we Help" below
Features of this service include:
- Captive Portal
- Configurable static Routing
- Proxy and Content Filtering
- NAT mapping
- Supports concurrent IPv4 and IPv6
- SSL encryption
- Deep Packet Inspection
- Multi-WAN for failover
- IP blacklist database
- Multi-WAN load balancing
- User and group-based privileges
- Local user and group database
- User and group-based privileges
- Optional automatic account expiration
- External RADIUS authentication
- Automatic lockout after repeated attempts
- Web interface security protection
- CSRF protection 
- Snort-based packet analyzer
- Multiple rules sources and categories
- Emerging threats database
- IP blacklist database
- Pre-set rule profiles
- Per-interface configuration
- Suppressing false positive alerts
- Deep Packet Inspection (DPI)
- Optional open-source packages for application blocking
- Optional multi-node High Availability Clustering
- Multi-WAN load balancing
- Automatic connection failover
- Bandwidth throttling
- Traffic shaping wizard
- Reserve or restrict bandwidth based on traffic priority
- Fair sharing bandwidth
- User data transfer quotas
- Web-based configuration
- Setup wizard for initial configuration
- IPsec and OpenVPN
- Site-to-site and remote access VPN support
- SSL encryption
- VPN client for multiple operating systems
- L2TP/IPsec for mobile devices
- Multi-WAN for failover
- IPv6 support
- Split tunneling
- Multiple tunnels
- VPN tunnel failover
- NAT support
- Automatic or custom routing
- Local user authentication or RADIUS/LDAP
- Remote web-based administration
- Customizable dashboard
- Easy configuration backup/restore
- Configuration export/import
- HTTP Referer enforcement
- DNS Rebinding protection
- HTTP Strict Transport Security
- Frame protection
- Optional key-based SSH access
- Stateful Packet Inspection (SPI)
- GeoIP blocking
- Anti-Spoofing
- Time based rules
- Connection limits
- Dynamic DNS
- Reverse proxy
- Captive portal guest network
- Supports concurrent IPv4 and IPv6
- NAT mapping (inbound/outbound)
- VLAN support (802.1q)
- Configurable static routing
- IPv6 network prefix translation
- IPv6 router advertisements
- Multiple IP addresses per interface
- DHCP server
- DNS forwarding
- Wake-on-LAN
- PPPoE Server