Fortigate FGR-30D
£1,150.00
Description
Fortigate FGR-30D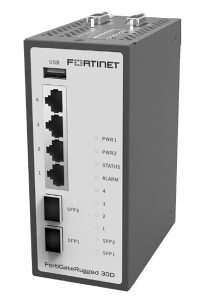 While traditional security solutions are designed and intended for the world of offices and corporations, the FortiGate Rugged Series offers industrially-hardened, all-in-one security appliance that delivers specialized threat protection for securing critical industrial and control networks against malicious attacks.
Ruggedized Design
Fanless and use of robust components ensure reliable operation in harsh industrial environments
Consolidated Security Architecture
FortiGate running FortiOS consolidated security offers better protection and lower cost of ownership than multiple point products. Coupled with FortiGuard Industrial Security Service, ensures that cirtical networks receives real-time protection.
Ease of Management
Robust management systems that allow rapid provision and deployment, monitoring of device and threat status while providing actionable reports
Interfaces: 1x USB Port, 1xConsole, 1x GE RJ45 WAN Port, 4x GE RJ45 Switch Ports
Additional information
| | |
| --- | --- |
| Specification | Hardware Spec GE RJ45 Switch Ports4GE RJ45 WAN Port1USB Port1Console (RJ45)1Wireless Interface–802.11 a/b/g/n System Performance — Enterprise Traffic Mix IPS Throughput 2300 Mbps NGFW Throughput 4200 Mbps Threat Protection Throughput 5150 Mbps System Performance Firewall Throughput 950 Mbps Firewall Latency (64 byte UDP packets)130 μs Firewall Throughput (Packets Per Second)180 KppsConcurrent Sessions (TCP)900,000 New Sessions/Second (TCP)15,000 Firewall Policies5,000 IPsec VPN Throughput (512 byte) 175 Mbps Gateway-to-Gateway IPsec VPN Tunnels 200 Client-to-Gateway IPsec VPN Tunnels 250 SSL-VPN Throughput35 Mbps Concurrent SSL-VPN Users (Recommended Maximum, Tunnel Mode)100 SSL Inspection Throughput (IPS, avg. HTTPS) 3125 Mbps SSL Inspection CPS (IPS, avg. HTTPS) 3120 SSL Inspection Concurrent Session (IPS, avg. HTTPS) 345,000 Application Control Throughput (HTTP 64K) 2400 Mbps CAPWAP Throughput (HTTP 64K)850 Mbps Virtual Domains (Default / Maximum)5 / 5Maximum Number of FortiSwitches Supported 8 Maximum Number of FortiAPs (Total / Tunnel Mode)2 / 2Maximum Number of FortiTokens500 Maximum Number of Registered FortiClients 200 High Availability Configurations Active/Active, Active/Passive, Clustering |