Cloud Firewall – Security in the core
Cloud Firewall from Stream enables you to plug your Fibre Ethernet Leased Line directly into your Local Area Network (LAN) and manage your security and IP addressing directly from the Cloud using our State of the Art network and management portal.

A Cloud Firewall allows you to say goodbye to your router and say hello to next-generation Ethernet.
GET CONNECTED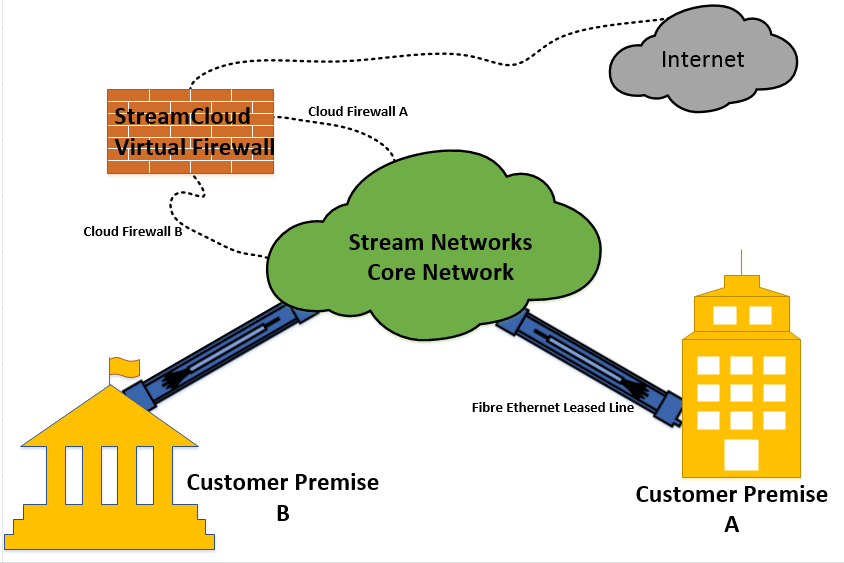 BUILD WIDE AREA NETWORKS WITH EASE
The Stream Cloud firewall allows easy private network expansion without the need for expensive MPLS networks. Simply add an additional virtual network card to the Cloud Firewall and Stream will terminate your additional sites, Broadband or Fibre Ethernet circuits in to one logical secure LAN.
SOFTWARE DEFINED
Deploying a cloud firewall from Stream Networks allows customers to define and easily change local IP address schemes for each site connected. In addition the deployment of QoS and bandwidth management can be controlled with ease from the central management platform.
LEARN MORE
REDUCE CAPEX
Deploying a Cloud Firewall enables customers to connect their Ethernet service directly to their Local Area Network removing the need for additional end point routers.
HIGH AVAILABILITY
Stream Cloud Firewalls are deployed within our High Availability Cloud infrastructure. This provides seamless hardware failover and back-up of your Virtual Firewall service.
LEARN MORE
CHOICE OF VENDORS
Our cloud infrastructure supports virtualized cloud firewall appliances from all the leading vendors including, PaloAlto, FortiGate, SonicWall and Sophos. In addition our platform also supports open source appliances from PFSense to OPNSense.
LEARN MORE
DDoS SCRUBBING
All Cloud Firewalls are connected to our DDoS protected Internet Transit providing an added layer of protection against attack.
LEARN MORE
Cloud Firewall Features
Our standard Cloud Firewall service provides the following security features *
*Features will vary depending on Virtual Appliance used
FIREWALL

AND ROUTER
Stateful Packet Inspection (SPI)
GeoIP blocking
Anti-Spoofing
Time based rules
Connection limits
Dynamic DNS
Reverse proxy
Captive portal guest network
Supports concurrent IPv4 and IPv6
NAT mapping (inbound/outbound)
VLAN support (802.1q)
Configurable static routing
IPv6 network prefix translation
IPv6 router advertisements
Multiple IP addresses per interface
DHCP server
DNS forwarding
Wake-on-LAN
PPPoE Server
VPN
Psec and OpenVPN
Site-to-site and remote access VPN support
SSL encryption
VPN client for multiple operating systems
L2TP/IPsec for mobile devices
Multi-WAN for failover
IPv6 support
Split tunnelling
Multiple tunnels
VPN tunnel failover
NAT support
Automatic or custom routing
Local user authentication or RADIUS/LDAP




INTRUSION PREVENTION
Snort-based packet analyzer
Layer 7 application detection
Multiple rules sources and categories
Emerging threats database
IP blacklist database
Pre-set rule profiles
Per-interface configuration
Suppressing false positive alerts
Deep Packet Inspection (DPI)
Optional open-source packages for application blocking








ENTERPRISE RELIABILITY
Optional multi-node High Availability Clustering
Multi-WAN load balancing
Automatic connection failover
Bandwidth throttling
Traffic shaping wizard
Reserve or restrict bandwidth based on traffic priority
Fair sharing bandwidth
User data transfer quotas







CONTENT FILTERING
HTTP and HTTPS proxy
Non Transparent or Transparent caching proxy
Domain/URL filtering
Anti-virus filtering
SafeSearch for search engines
HTTPS URL and content screening
Website access reporting
Domain Name blacklisting (DNSBL)
Usage reporting for daily, monthly




CONFIGURATION
Web-based configuration
Setup wizard for initial configuration
Remote web-based administration
Customizable dashboard
Easy configuration backup/restore
Configuration export/import
Encrypted automatic backup to Netgate server
Variable level administrative rights
Multi-language support
Simple updates
Forward-compatible configuration
Serial console for shell access and recovery options
SYSTEM SECURITY
Web interface security protection
CSRF protection
HTTP Referrer enforcement
DNS Rebinding protection
HTTP Strict Transport Security
Frame protection
Optional key-based SSH access




REPORTING AND MONITORING
Dashboard with configurable widgets
Local logging
Remote logging
Local monitoring graphs
Real-time interface traffic graphs
SNMP monitoring
Notifications via web interface, SMTP, or Growl
Hardware monitoring
Networking diagnostic tool
APPLICATIONS
VPN Server
High Availability
Load Balancing
Traffic Shaping
DS / IPS
Transparent Caching Proxy
Web Content Filter
Captive Portal
UTM Device
Firewall / Router
DNS / DHCP Server
What are Cloud Firewalls?
In the Cloud Firewall world, software-based, cloud-deployed network devices are designed to block or mitigate unwanted access to private networks. As a new technology, they are designed for modern business needs, and are deployed with online application environments.
Do you need a firewall in the cloud?
The answer is yes if you are using the cloud constantly for work, you will need cloud security as well. Cloud security cannot provide the protection most businesses need today and won't safeguard your current network infrastructure.
Get Connected!

It will only take a minute
Please connect with one of our friendly Cyber Security experts to see how a cloud firewall could benefit your network!
GET CONNECTED
Looking for an alternative cyber security solution?
We have it covered!
CONNECT WITH US
Contact us