Voice Express – The IP Phone system for small business
Voice Express – The IP Phone system for small business.

By December 2025, traditional phone lines will be phased out. Businesses of every size will need to find a new way to connect.

Voice Express uses VOIP technology enabling you to make and take calls over a broadband line while keeping your existing analogue phones.
FREEDOM TO WORK ANYWHERE
Small business can't afford to miss a call. With Voice Express, you can stay connected across mobile and office phones. You can manage users and numbers remotely and if you move premises, you can take your number with you. Freeing you up to work anywhere. You don't have to worry about call usage either with our built-in bundled rates.
FEATURES AT YOUR FINGERTIPS
Using our brand new mobile app, your customers can move seamlessly between devices, with the same call features across them all. Voicemail, call divert, call hold, out of hours. all set-up at the touch of a button and automatically saved. Plus, you gain access to call controls on every device, giving you the tools you need to deliver exceptional customer service. Every time.
UNLEASH NEW OPPORTUNITIES
Expand your business nationwide, without having to worry about location costs. You get a new business number that's not limited to where you work. Whether you want a new geographic or non-geographich number, you can set them up in a snap. All you have to do is update your details in our easy-to-use online portal and we'll handle the rest.
DIGITAL PHONE SERVICE READY FOR THE FUTURE
MAKE AND TAKE CALLS ON MOBILE OF DESK PHONES
ADJUST CALL SETTINGS ON MOBILE OR DESK PHONES
EASY TO SET-UP AND MANAGE USER ACCOUNTS
NO GEOGRAPHICAL NUMBER RESTRICTIONS
DEDICATED NUMBERS FOR EVERY USER
SIMPLE TO TRANSFER AND RETAIN EXISTING NUMBERS
REDUCE YOUR CALL CHARGES WITH OUR BUNDLED CALL PACKAGES
Easy Self Service
Save time, work smarter! Ordering Voice Express takes less than 2 minutes and you can self-managed up to 10 users within our business portal. With our mobile app you can handle calls using the same business number on any device and you can control call settings and call features too.

Broad range, quick start! Voice Express gives you the best possible voice experience, with a simple solution that brings immediate benefits. With a great choice of IP phones, with our enhanced range of cordless, wired and analogue adapters (ATA) options, Your number will automatically transfer to the new broadband line when you plug in your new handset, no fuss no delays.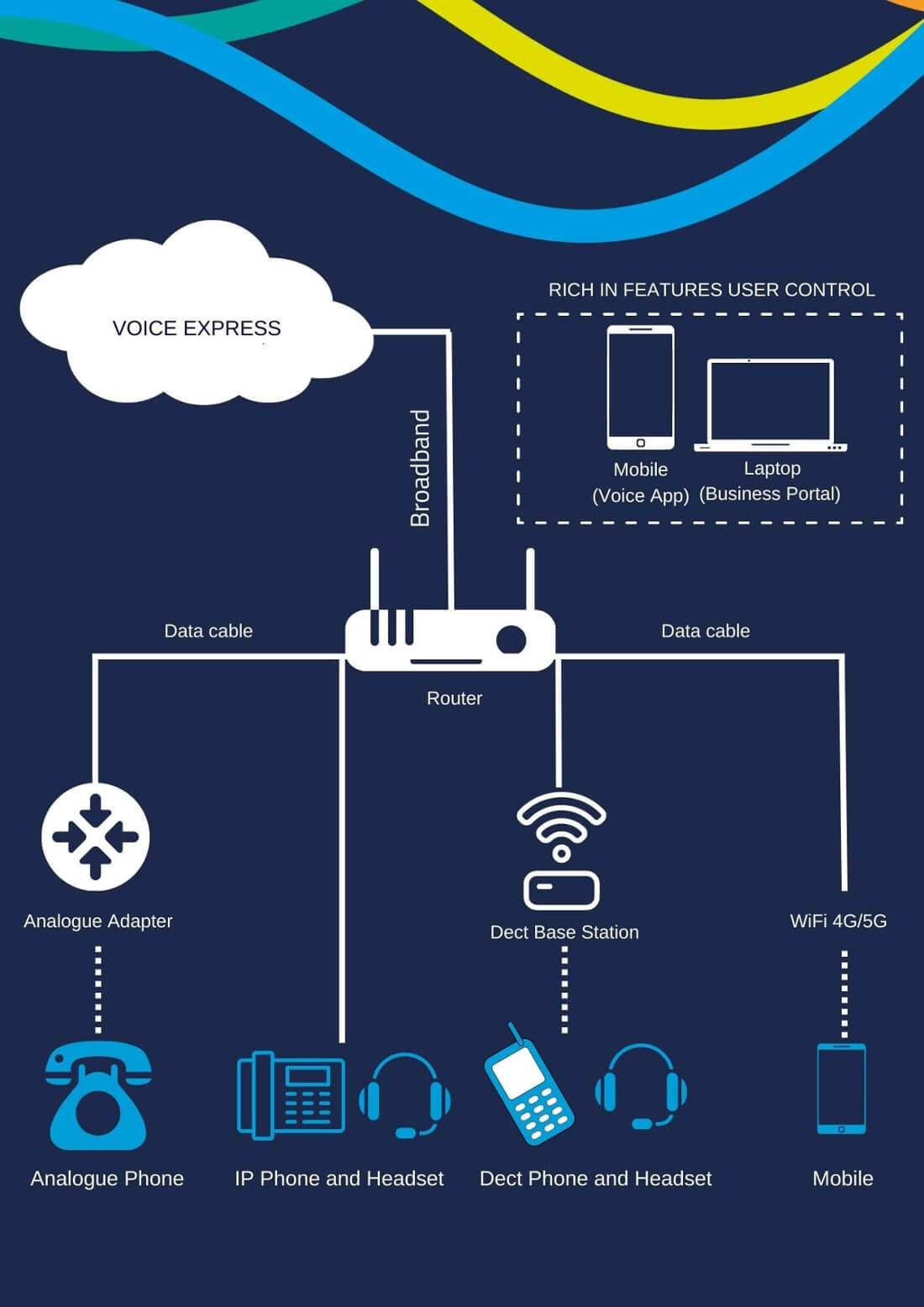 CONNECT WITH US
Contact us
If you would like to find out further information on Voice Express please contact one of our account managers using the form below.