PSTN Switch Off
With the advent of new Full Fibre broadband and VOIP (Voice Over Internet Protocol) services In 2017 BT Openreach announced they planned to turn off make the analogue public switched telephone network (PSTN Switch Off) end of life by 2025.
CLICK HERE TO CHECK FOR SOGEA AND FULL FIBRE SERVICES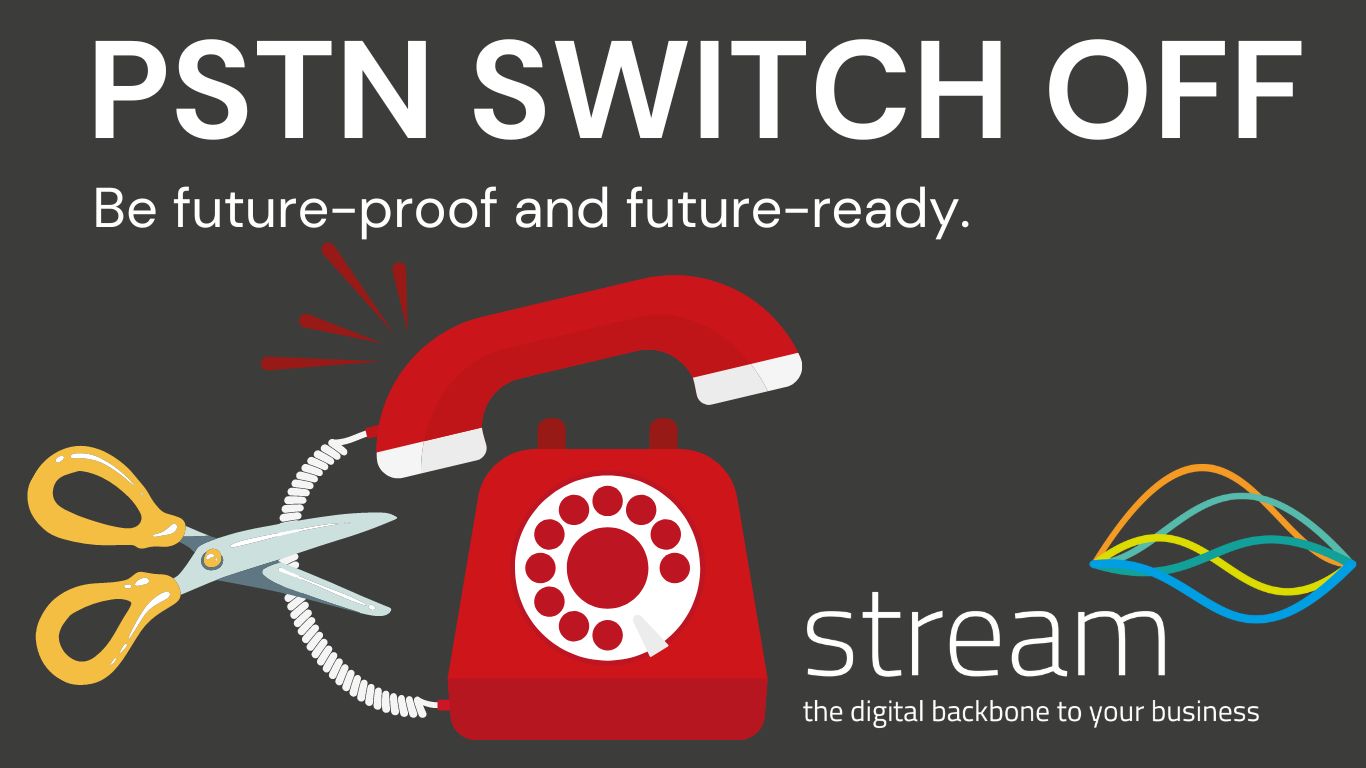 What is the PSTN and ISDN Network?
The PSTN (Public Switched Telephone Network) and ISDN lines (Integrated Services Digital Network) networks are copper wire analogue telephone line services. Analogue telephone lines transmit voice as electrical signals. When you speak, the phones microphone converts the sound your voice makes into electrical waves. These waves broadcast over the phone line to the end destination.
What is replacing the PSTN and ISDN Network and why?
With the advances in the reliability of IP technology/broadband services such as FTTC, FTTP and Fibre Ethernet it has enabled providers to transmit Voice services over Internet Protocol. With a VOIP service your Voice is converted into a digital signal that travels over an Internet connection.

Due to the advances in broadband and VOIP it made sense for network operators to run one network instead of two networks hence the announcement by BT Openreach to close the PSTN network.
Is your business ready for the UK's analogue switch off? View our video on the PSTN switch off.
How and when will the PSTN switch off happen?
There is a 6-step process in the switch off PSTN services. In 2017 BT Openreach announced the network switch off by 2025 with a planned stop sell (no new analogue lines to be sold) on exchanges that started in Dec 2020 and then an end-of-life announcement for all analogue services by the end of December 2025.
2017
BT Openreach announced plan to switch network off
DEC 2020
Salisbury exchange first to trial stop sell.
OCT 2021
A further 169 exchanges were announced as stop sell.
APRIL 2023
Salisbury and Mildenhall exchanges announced as end of life for analogue services.
SEP 2023
UK wide stop sell, no further analogue lines can be purchased nationwide.
DEC 2025
End of life process for all land lines and analogue telephony services.
PSTN Switch Off Stop Sell Tranche Dates
Stop Sell is a process where Openreach stop selling analogue products on set telephone exchanges. Stop Sell is different to product withdrawal as customers can continue to use the legacy analogue products however new orders at the exchange must use new SOGEA or FTTP technology.
Complete Exchange List
Salisbury Trial – Exchange 1
Starts 01/12/2020
Mildenhall Trial
Starts 04/05/2021
Tranche 1a – 13 Exchanges
Starts 29/06/2021
Tranche 1b – 94 exchanges
Starts 13/10/2021
Tranche 2 – 26 Exchanges
Starts 13/10/2021
Tranche 3 – 47 Exchanges
Starts 25/01/2022
Tranche 4 – 69 Exchanges
Starts 29/04/2022
Tranche 5 – 67 Exchanges
Starts 02/08/2022
Tranche 6 – 51 Exchanges
Starts 01/11/2022
Tranche 7 – 46 Exchanges
Starts 08/02/2023
Tranche 8 – 46 Exchanges
Starts 09/05/2023
Tranche 9 – 76 Exchanges
Starts 08/08/2023
Tranche 10 – 34 Exchanges
Starts 01/11/2023
Tranche 11 – 52 Exchanges
Starts 16/02/2024
Tranche 12 – 119 Exchanges
Starts 04/06/2024
UK WLR STOP SELL – WLR WITHDRAWAL – ALL EXCHANGES
Starts 05/09/2023
What are the benefits of moving to a digital voice service?
Voice Over Internet Protocol (VOIP) is the new digital standard for telephone services and has many benefits over analogue landlines.
REDUCE COSTS
Digital voice services typically save over 30% against traditional landline costs with cheaper service rental and call costs.
FLEXIBILITY
A VOIP service delivers more flexibility enabling a user to take calls on multiple devices be it a desk phone, computer or mobile device. Whatsmore you can take your phone number with you across the globe.
SCALEABILITY
A digital VOIP phone service allows you to scale your business operation in line with seasonal trends increasing or decreasing the number of phone lines your business needs at a touch of a button.
FUNCTIONALITY
Moving to a new digital phone service provides advanced call handling features enabling a business to increase productivity.
How do you switch to a Digital Voice Service?
Our 3 step process makes switching to a VOIP service hassle free.
CHECK FOR SOGEA
Use our SOGEA checker to check for SOGEA FTTC, FTTP, and Ethernet Leased Line services
Check Now
CHOOSE A REPLACEMENT PRODUCT
Speak to one of our Digital Voice experts to find a suitable replacement service with options available from SIP, Microsoft Teams Phone, 3CX and our Hosted cloud telephony solutions.
Chat With Us
PORT YOUR NUMBERS


With our managed porting service we will make sure all of your existing analogue telephone numbers are ported across to your new digital phone system seamlessly.
Chat With Us
What are the replacement products to future proof your telecoms?
Stream Networks have a range of new services to support your migration from legacy systems to an all IP Technology based future.
What is VOIP?
VOIP stands for Voice Over Internet Protocol. It is a way of sending voice over an IP or digital network.

With an analogue phone service when you speak into a microphone the soundwaves your voice make are transmitted into electrical signals which are then transmitted over the analogue network. With a digital VOIP service your voice soundwaves are converted into a digital signal which is carried over the Internet in packets of data using the Internet Protocol.

With advances in VOIP protocols in-conjunction with the reliability and speed of broadband services, ensures digital voice delivers a better service over equivalent analogue phone lines.
When is the UK PSTN switch off happening?
The end of life notice for the UK's analogue PSTN network switch off is planned for December 2025. This means everyone in the UK will need to switch to a Digital Phone based service by this point.
What is PSTN stop sell?
PSTN stop sell refers to an announcement by BT Openreach to stop selling analogue landline services on a telephone exchange to support the move to digital voice
When is the UK wide PSTN stop sell happening?
The UK Wide PSTN Switch Off Stop Sell is planned for Sep 2023 which means you will only be able to purchase new digital phone services from the end of September 2023.
My business alarm systems needs a landline what will I do when the PSTN network is switched off?
Contact your alarm provider, they will either install a Mobile SIM (4G, 5G) or alternative broadband product to provide alarm connectivity
What does WLR stand for?
WLR stands for Wholesale Line Rental and refers to analogue phone lines.
What does SOGEA stand for?
SOGEA stands for Single Order Generic Ethernet Access. In the past broadband services have been provisioned on top of a landline, as part of the switch off SOGEA services have been launched that provide broadband without the need for a separate landline installation or bill.
Read Our Blog on SoGEA