LPWAN | LoRa WAN
When business needs to connect, it connects with us first
STREAM Networks Long Range Wide Area Network (LoRa-WAN) or LPWAN (low powered Wide Area Network) enables businesses to take advantage of the benefits that the internet of things (IoT) and machine-to-machine communications, without the need for expensive always on SIM cards and power hungry devices.

LPWAN networks are perfect for applications that only need to periodically upload their data, think smart bins where refuse can collect when the bin is full, or for environmental monitoring where connecting to always on power is difficult and expensive.

Devices used on a LoRa-WAN or LPWAN network only send periodic data, therefore less power and bandwidth is required. Battery life can be extended by up to 10 years, in addition many devices can use miniature solar panels to power their connectivity.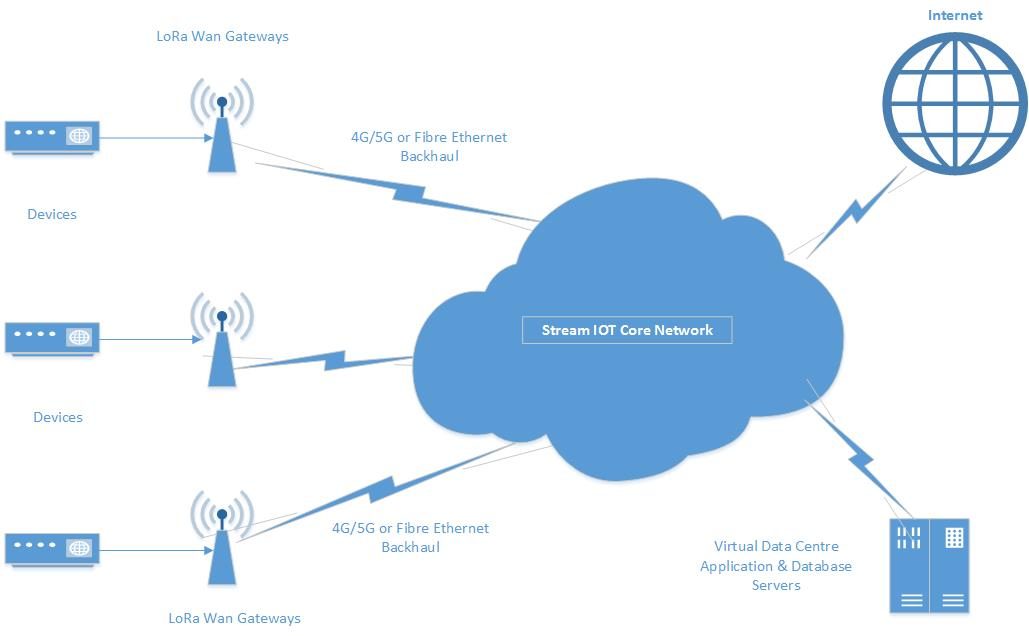 LPWAN and LoRa WAN benefits
LOW POWER
LPWAN's are suitable for devices that need to send periodic small amounts of data. This means devices can be connected to battery's and small cell solar panels
BANDWIDTH AND NETWORK REACH
LPWAN's accommodate packet sizes from 10 to 1,000 bytes with upload speeds up to 200 Kbps over a distance from 2 km to 25km, depending on the number or access points deployed.
STAR NETWORK TOPOLOGY
LPWANs are built using a star topology with each device or endpoint connecting to an access point. Each access point then needs either a Fibre Ethernet Leased Line service or 4g/5g connection back to a central cloud application server to capture and process the data.
FREE SPECTRUM
Stream Networks currently deploy LoRa wan's for our customers. LoRa wan is a free spectrum and is backed by the LoRa Alliance.
What is LPWAN in IoT?
A single LPWAN battery charge allows IoT devices to operate for up to ten years. This is perfect for solutions with limited mobility that do not have reliable electricity sources.
What is LoRa and LoRaWAN?
LoRa modulates a specific wireless spectrum, while LoRaWAN is an open protocol that enables LoRa to communicate with IoT devices.
Get Connected!

It will only take a minute
Speak to one of our tech friendly IoT consultants to see how Stream's IoT solutions can help your business grow!
GET CONNECTED
CONNECT WITH US
Contact us