Leased Line Back Up
100% up time
Resilient Internet
Ensuring your connectivity stays on whatever the event is key to your businesses success so why compromise on your Internet service?
Leased Line Availability Checker
Looking for a cost effective leased line? Our leased line availability checker compares the market and returns the best price available for your post code.
CHECK NOW
Leased Line Back Up – 100% Service Availability
When business needs to connect, it connects with us first.
Internet connectivity loss can cost business thousands in operating costs, staff productivity and revenue.
Ensuring you have a leased line backup plan in place to mitigate against cable breaks, router, firewall or ISP failure is easier than you think with our smart leased line backup service.

Stream Networks specialise in delivering Internet resilience and leased line backup to UK business via our Smart Juniper SDN fibre Network. Our uncompromising service provides diversely routed leased lines, EoFTTC and Broadband. In addition we are technical experts in delivering high availability router, firewall and switch infrastructure.
How does Leased Line back up work?
Our network utilises IP SLA's and dynamic BGP routing for leased line failover to seamlessly switch your Internet traffic via diverse Internet circuits, terminating in different parts of our core network. Our team of experts will configure High Availability routers and firewalls to ensure that should a device, port, or circuit fail you will stay connected without interruption.
DUAL ROUTERS
Stream provide our leased line back up service with dual routers that act as one. Should a router, port or circuit fail the secondary router will automatically take over.
DUAL FIREWALLS
Our team of experts also deliver and configure dual firewalls configured in High Availability mode ensuring your security never fails and you stay connected.
Get Connected!

It will only take a minute
Speak to one of our friendly pre-sales technology experts to see how our service can help protect against Internet downtime
GET CONNECTED
What is RAO2 Fibre?
RAO2 stands for Resiliency Access Option Two. RAO2 leased line circuits are the gold standard in Internet resilience, providing diversely routed fibre from the customer premises to the Internet Service Providers network. RAO2 is available as two different services RAO2 Standard and RAO2 Plus.
What is RAO2 standard?
RAO2 Standard provides two leased lines from a customer premises that connect to the same telephone exchange. Each fibre leased line uses a different route and duct from the customers premises to the same exchange protecting against fibre breaks at the customer premises however RAO2 standard does not protect against a telephone exchange failure.

What is RAO2 Plus?
RAO2 plus provides two leased lines from a customer premises that connect to different telephone exchanges. Each fibre leased line uses a different route and duct from the customers premises to the diverse exchanges protecting against fibre breaks at the customer premises, telephone exchange and ISP datacentre.

What is VRRP?
VRRP stands for Virtual Router Redundancy Protocol. VRRP provides a router failover solution should a router or Internet circuit fail a VRRP solution will automatically switch traffic over the back-up router and Internet circuit.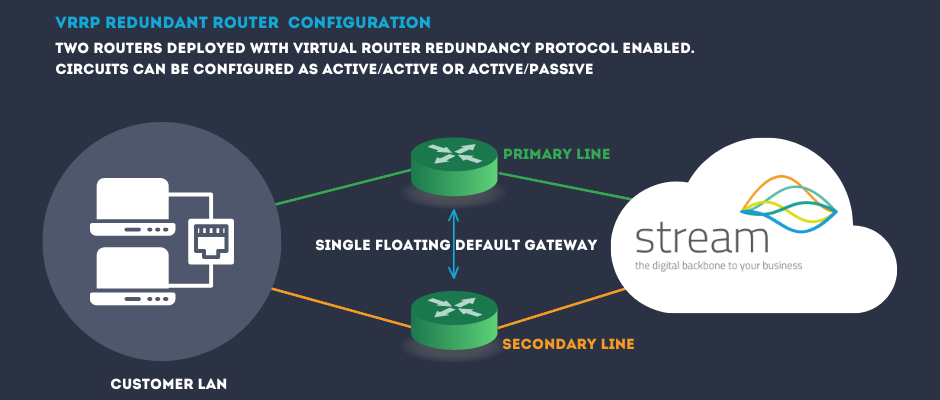 What is Active Active Internet Resilience?
An Active Active Internet services utilises both Internet access circuits at the same time. If you had two 1Gbs Internet leased lines, then both circuits would be active providing up to 2Gbs of Internet access. Should one line fail service speed would be reduced but service would continue on the primary line.
What is Active Passive Internet Resilience?
In an Active Passive configuration one Internet circuit will be designated as the primary service and in the event the primary circuit failed traffic automatically fails over to the secondary service. Once the primary circuit has been restored, traffic reconverges to the primary leased line.
Looking for alternative connectivity?
We have it covered
CONNECT WITH US
Contact us