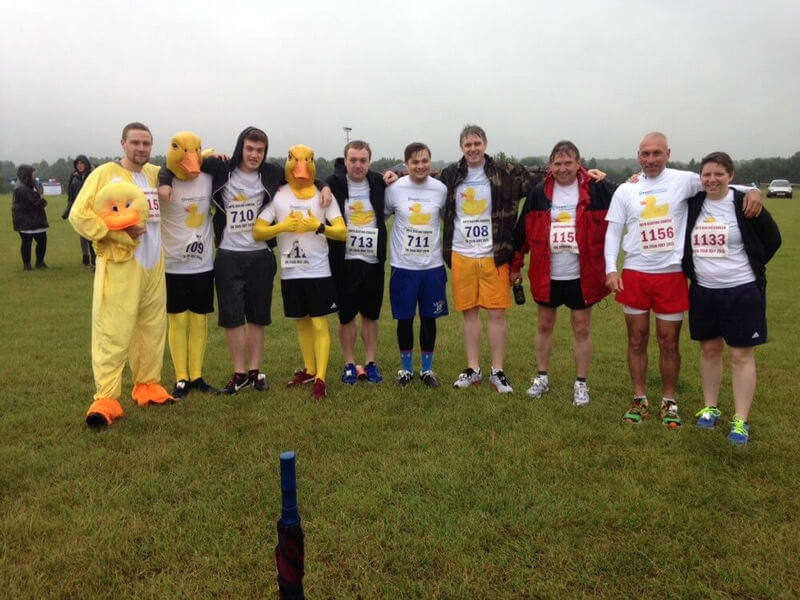 It was a cold and wet July morning, typical of the British summertime and the Stream Team were braving the conditions to don their trainers and duck suits and run for Boys Beating Cancer. The team, consisting of Brian (10km), Carl (5km), Pete (10km), Nick(10km), Arron (5km), Pam (10km), Sam (5km), Joe (5km), Tom (5km) and Ben (5km), had been hard in training for months for the challenge and were raring to attack the respective 5km and 10km routes.
Upon arrival, everyone registered and it was soon time to warm up. With muscles stretched and bodies warm, we were called to the start line. Nerves were high, anticipation through the roof and the sky was limit. We were racing!
The Stream Team were a team by name only; the in house rivalry was intense. Shooting out of the blocks came the three ducks of Nick, Joe and Arron. However already far in the distance was Pete, who was on his third race of the weekend and with 20km already in his legs, a truly magnificent effort. The rest of the team set off at steady pace, with finishing the main goal rather than running against the clock.
The course was 5km in length, with the 10km race consisting of two circuits. There were runners of all levels competing, and spectators surrounded every corner. The Stream Team would not have been compete without the support and encouragement of Lisa, Anita, Abigail, Chantal and Jason, the latter who had to pull out of the race due a cartilage injury.
25 minutes later, the finishers started arriving. Joe was the first to cross the line from the Stream Team. He was quickly joined by Arron and Carl, with Ben, Sam and Tom soon to follow. The 5km team had all finished with respectable times, next was the turn of the 10km runners.
Pete, hot on the tail of our 5km finishers, arrived next with a magnificent time of under 40 minutes and an overall position of 4th place. Next up and with duck suit still intact, Nick crossed the finishing line. The anticipation then began to grow as the team awaited Brian and Pam's arrival. Before long, they came racing round the last corner and on to the home straight to big cheers as they crossed the line.
Upon catching his breath, Brian Parnham, chief organiser of the Stream Team said 'The weather did not spoil the day, the course was well laid out and the event organised superbly. Whilst we all had a great day, it was never forgotten that we were there for an extremely worthwhile cause and one that is close to the heart of many.'
If you wish to sponsor the team and make a donation to a fantastic cause please visit Stream's Just Giving page.
Photos courtesy of Sonja Whatson Photography