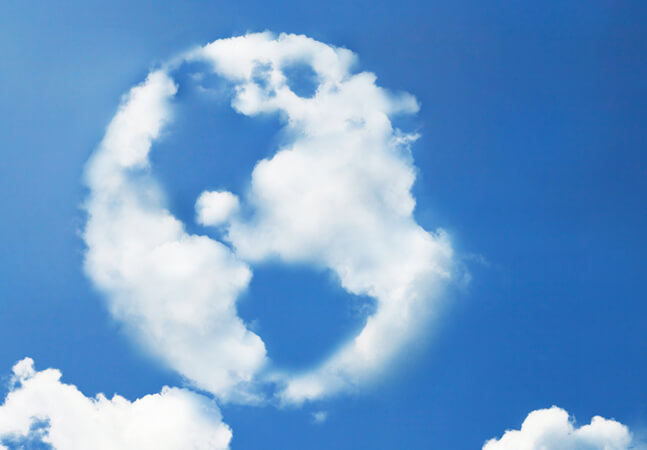 It's 2017, and I would like to think we are at a stage where most people realise the Cloud is something that is not actually in the sky. However, it still seems that we are not at a level where people realise the Cloud is part and parcel of everyday life.
There are still people out there who are scared to adopt something that they cannot see or that they don't believe is directly under their control.
What these people might not realise is that it is more likely than not they are using the Cloud in their everyday lives.
So how about we try a few on for size?
Email – I think it's safe to say email is something we all depend on the right? Well, that means we all depend on the Cloud. The two big boys in the market; Google Mail and Hotmail/Outlook are pieces of Software that you access online. Otherwise known as Software as a Service (SaaS)! I make that 1-0 to Cloud.
Storage – Now there's a 50/50 chance that you have an Apple device, be it an iPhone, an iPad or a MAC. If you are one of these users you will be using the Cloud. In fact, there is a whole offering from Apple called iCloud where users can back up anything from a photo or two to their whole systems.
Other examples of storage people are using? Dropbox, OneDrive, Google Drive, Amazon Drive. Anyone that uses a Kindle will have used the Cloud as anything they buy will be stored in the Cloud.
Entertainment – I remember when I was a teenager, thinking I was cool and queuing up outside my local supermarket for the "midnight release" of the newest game. Teenagers these days don't have this problem, they don't need to physically own a game, and instead, they can download them. Where are these games downloaded from? Our good friend the Cloud! I know a lot of gamers who like to listen to music whilst they game, they might listen to music on Spotify, Soundcloud or maybe Apple Music? Guess where all those millions of hours of music are stored? In The Cloud.
I don't know about anyone else, but I absolutely love Netflix. Being able to watch a film from wherever, or stream episode on episode of a TV Series, not having to wait a week to find out what happens next. Yes, you guessed it – Netflix is cloud-based.
So there we have it, away with you naysayers, The Cloud is already a huge part of modern society and has impacted the way we do things greatly.
The Cloud makes everything more accessible, it makes everything cheaper, it means we can change things quicker – why wouldn't you embrace it anywhere you can?
Want to talk about how you can embrace the Cloud? Talk to us on 01635 884170 or sales@stream-networks.co.uk