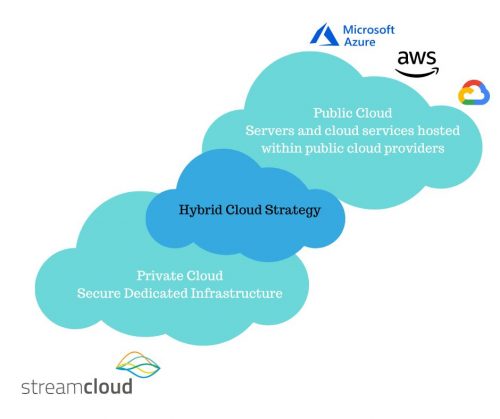 The term hybrid cloud is a computing environment that utilises a mix of private and public cloud solutions to deliver enterprise IT infrastructure. In a hybrid cloud deployment, a company could use a mix of private cloud services (virtual machines) utilising hypervisor platforms such as VMware that are hosted within a private datacenter, cloud storage services, SAAS (Software As A Service) and public cloud providers from the likes of Amazon Web Services (AWS), Microsoft Azure, and Google Cloud to deliver an organisation's overall IT strategy and computing resources.
The Benefits of Hybrid Cloud
We're seeing more IT services moving from on-premises infrastructure to a Hybrid Cloud approach. Here are some of the reasons why.
Benefit 1: digital transformation
Hybrid Cloud can support a company's digital transformation strategy. Businesses can benefit from the wide range of private and public cloud services on offer.
Benefit 2: maximising ROI
A hybrid cloud strategy can result in cost savings for companies. Optimising and choosing the right hybrid cloud solutions to meet business needs and workloads can achieve a measurable return on IT investment.
Benefit 3: scalability
Hybrid Cloud Architecture delivers scalability through the use of public cloud infrastructure. For example, it's easy to increase compute resources for seasonal changes in workloads or the deployment of new apps. Alternatively, it's simple to decrease your usage if business needs change.
Hybrid Cloud Use Cases
Section to explain how hybrid cloud can be used and we can mention how Stream Networks can help in more detail than there is on the page at the moment.
Disaster recovery: public and private data disaster recovery can be tailored to specific business requirements. Optimize the back-up process with a simplified solution.
Workload migration: VMware can be shifted to public cloud infrastructure in order to reduce the footprint and costs on the on-premises data center.
Development lifecycle: due to its versatility, hybrid cloud can support the various phases of the development process. Resources can scale according to the needs at each stage.
Legacy applications: Enhance existing apps with better user experiences and new versions for new devises via public cloud services
Security and compliance: sensitive data and highly-regulated workloads are better suited to private cloud storage, behind a local firewall. Use the public cloud resources for less sensitive data where it can be stored and processed efficiently.
How does a hybrid cloud work?
Essentially, this solution provides and effective mix of on-premises, private cloud, and public cloud services. It makes them all work together seamlessly to power an entire organisation. Ultimately, hybrid cloud creates a single, flexible, optimal environment from which to run a business' computing workloads.
Flexibility has become a key requirement as part of a company's modernization and digital transformation. Hybrid cloud architecture focuses on portability of workloads across cloud environments.
Private and public clouds are no longer physical locations. They often exist in virtual private networks, virtual private clouds or third party data centers. They're more able to be used on demand by developers as required.
More frequently, businesses are building new applications and modernising legacy applications to address latency and other issues. They're transforming apps to microservices which breaks them down into smaller components which can be reused and are very focused on specific usages.
This unified hybrid cloud solution can maximise resources. It powers automation, taking advantage of machine learning and artificial intelligence.
What is a private cloud?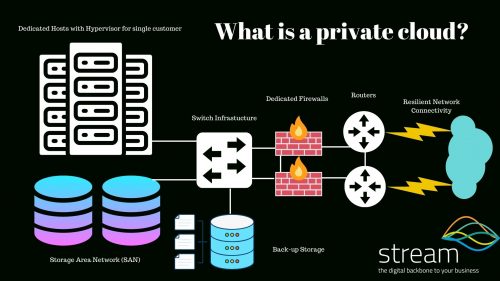 A private cloud typically refers to the use of underlying compute infrastructure coupled with a Virtualization platform (VMWare, Hyper-V or an open source virtualization platform such as KVM or OpenStack) that is dedicated to a single customer and hosted within a Data Center. No other customer will have access to this platform or share the infrastructure.
What is a public cloud?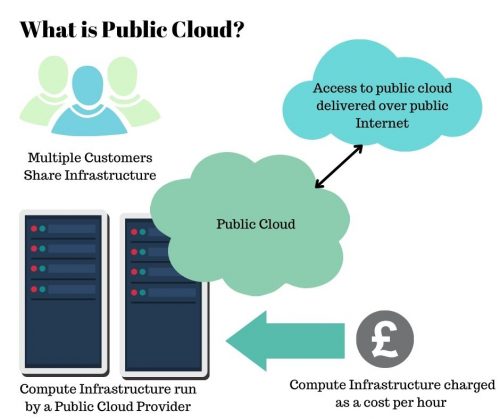 A public cloud is a cloud infrastructure that again uses compute infrastructure with a hypervisor however, in a public cloud the underlying infrastructure is shared with other customers with each customer securely segmented across the infrastructure and virtualization platform from one another. Public clouds offer additional features built in to each cloud computing platform such as cloud security services, API's (Application Programming Interfaces), disaster recovery, management tools and orchestration technology.
What is the difference between hybrid cloud and multicloud?
Multicloud refers to the use of multiple public cloud environments where hybrid cloud refers to the use of public clouds, private clouds, and SaaS.
Hybrid Cloud Security
How do you connect to a hybrid cloud securely?
Because a Hybrid Cloud is a mix of Public Cloud and Private Cloud infrastructure, secure connectivity is usually delivered via a VPN (Virtual Private Network) connection or can also be delivered by a private layer2 connection to the public or private service providers network. In the case of Amazon a private connection is obtained by the AWS Private Link service and with Microsoft Azure via the Microsoft Express route service. Both public cloud providers also support IPSEC Site to Site VPN connectivity directly from their Cloud Orchestration platforms to tunnel securely over the public Internet.
We are however now seeing a rise in SD-WAN (Software Defined Wide Area Networking) to connect a Hybrid Cloud in to a secure wide area network. SD-WAN allows for automation and orchestration of the Wide Area Network delivering zero trust security and application performance to your cloud resources and sensitive data from your on premises infrastructure. For further information on the benefits of SD-WAN visit our SD-WAN page.
How do you secure a hybrid cloud?
With a Hybrid Cloud environment it is important to understand the security threat landscape against your entire network. With a private cloud environment you will need to deploy hardware firewalls to protect your overall cloud platform with the potential to segment and virtualize a cloud firewall to protect your individual resources and virtual machines.
With a public cloud infrastructure straight out of the box you will have security built in to the public cloud providers network which is configurable via the providers cloud gui however, this may not give you the interoperability you require as it ends up with different firewall technology stack for each cloud environment. Again this is why deploying an SD-WAN firewall will allow you to have end to end interoperability as your entire firewall estate can be deployed using the same vendor. Most SD-WAN and firewall vendors (Juniper, Cisco, FortiGate, Palo Alto, SonicWALL) now allow for the underlying Firewall operating system to be virtualized, this allows you to spin up the same Firewall technology on your private cloud and your public cloud.
How is hybrid cloud infrastructure managed?
Hybrid Cloud management requires the use of a mix of Orchestration platforms, Hypervisors and API's depending on the cloud technologies deployed. On premises data center private cloud environments will typically use the Hypervisor to manage the infrastructure such as VMWare Vcenter where public clouds such as Microsoft Azure and AWS have their own web based gui.
There are Hybrid Cloud management systems available that will interface and API in to all of your hybrid cloud environments such as ONAPP and Stream Networks deploy hybrid cloud computing environments to support our cloud customers.
Advantages and disadvantages of hybrid cloud
Hybrid cloud solutions employ the best aspects of private, on-premises cloud and cloud networking. For businesses applying strategies for modernization and digital transformation, hybrid cloud adoption seems an obvious and cost-effective solution.
However, as with any solution, there are some downsides. We're transparent about that. We want to ensure that you're informed so that you can make the best decisions for your business.
Advantages of hybrid cloud
Unification: as the name suggest, hybrid cloud is a combination of solutions. It brings databases, applications and components together under one unified, data management umbrella. That simplifies the approach, enabling interoperability.
Scalability: the hybrid model provides businesses with increased versatility. Businesses can scale up rapidly and inexpensively to cope with unplanned spikes in traffic. Plus, there's no impact on private cloud workloads. This is known as 'cloudbursting'
Automation: overall business acceleration can be accommodated. Think increased innovation, quicker product development, faster application delivery and better integration with partners and third party applications. Improved connectivity and capabilities can boost process automation and workflows.
Cost savings: resource optimization has pricing benefits. Public cloud infrastructure is the space for development and testing, plus more variable workloads. Workloads with predictable capacity are better placed on private cloud.
Disadvantages of hybrid cloud
Deployment time: it will take time to securely deploy these digital solutions. Businesses will need to factor in this disruption to their environment and workload. Implementation is complex and creates a strong demand for storage, servers and network capabilities.
Support required: it can be challenging to make hybrid cloud work in your server premises environment. Specialist support will be required to make sure you get the best result for private cloud, public cloud and SaaS applications.
Complexity: having a more flexible solution does mean it is more complicated. Storage is split between private and public cloud, so there is no overall visibility of the cloud environment.
Hybrid cloud architecture
Private and public clouds make up the hybrid cloud architecture and each have their own benefits. Their interconnectivity is actualised through data virtualisation initially. Connective tools and protocols like APIs, VPNs and WANs provide a secondary layer.
Combining public and private environments, provides your business with greater control over data safety and management, privacy, authenticity and security of your IT infrastructure.
Is hybrid cloud right for your business?
Using a hybrid cloud model is now par for the course for most business. The benefits of building new applications quickly and efficiently that support a business's digital transformation is essential to today's modern enterprise. Making hybrid cloud work can though be challenging, being able to secure, and deploy digital solutions than encompass your server premises environment, private cloud, public cloud and SaaS applications does require time and support to ensure you get the best environment for your needs.
If you would like to find out how Stream Networks can support your hybrid cloud deployment please use the contact form below or contact us by telephone on 01635 884170 or by email to sales@stream-networks.co.uk