What is 3CX?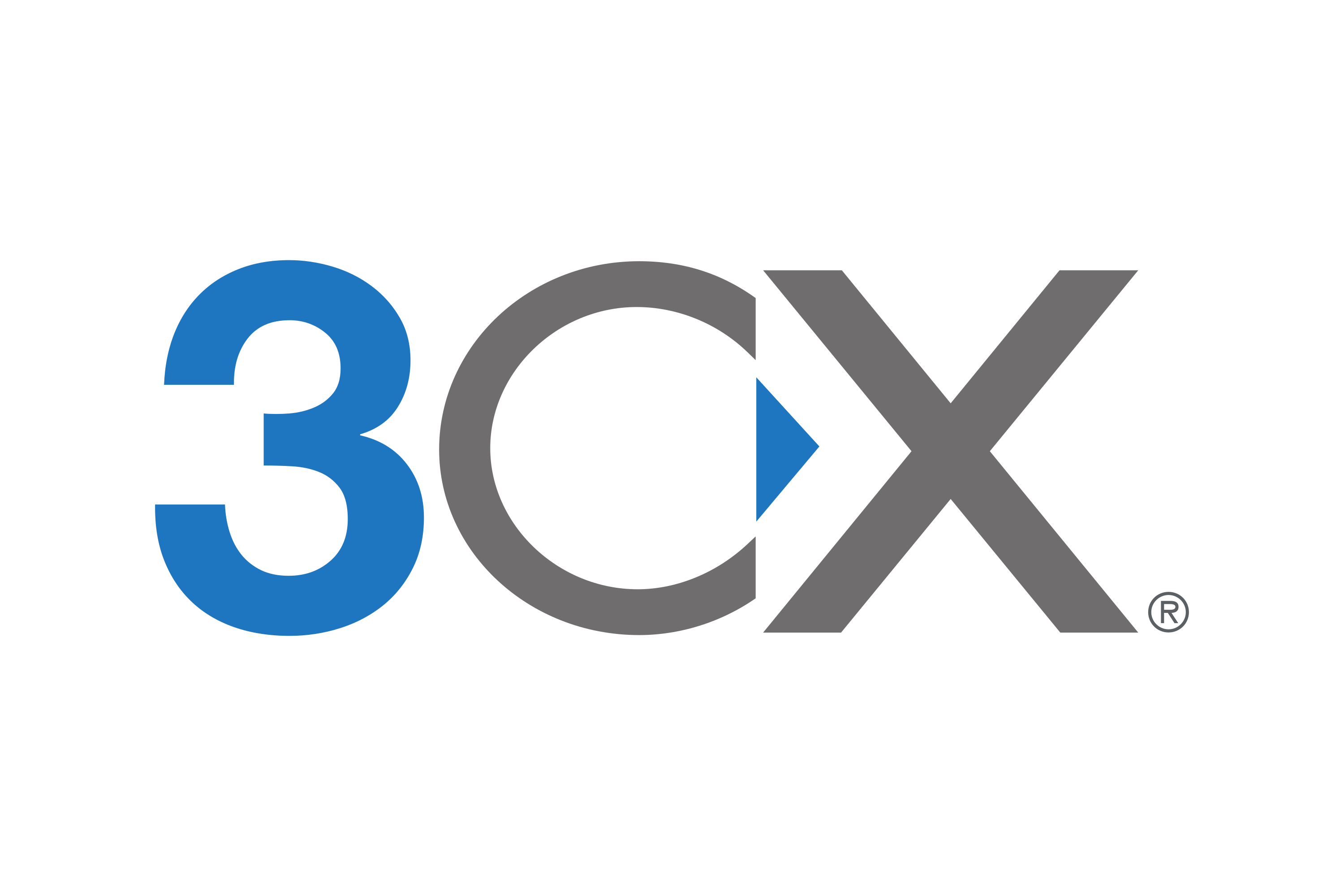 3CX is a private branch exchange (IP PBX) software based technology designed to be hosted in the cloud or using on-premises IT equipment to replace a traditional PBX. Think of a PBX as a telephone exchange or call server routing all of your inbound and outbound business communication phone calls to the correct office extensions within your organisation..
With an IP PBX instead of using analogue phone lines you use Voice Over Internet Protocol and an Internet connection to terminate your calls.
Specifically 3CX uses open standard SIP Trunk connectivity instead of ISDN and PSTN (analogue) traditional phone services, this supports businesses with the UK's PSTN switch off and move to VOIP services. 3CX is a complete unified communications solution for business delivering competitive pricing and enhanced cloud based features.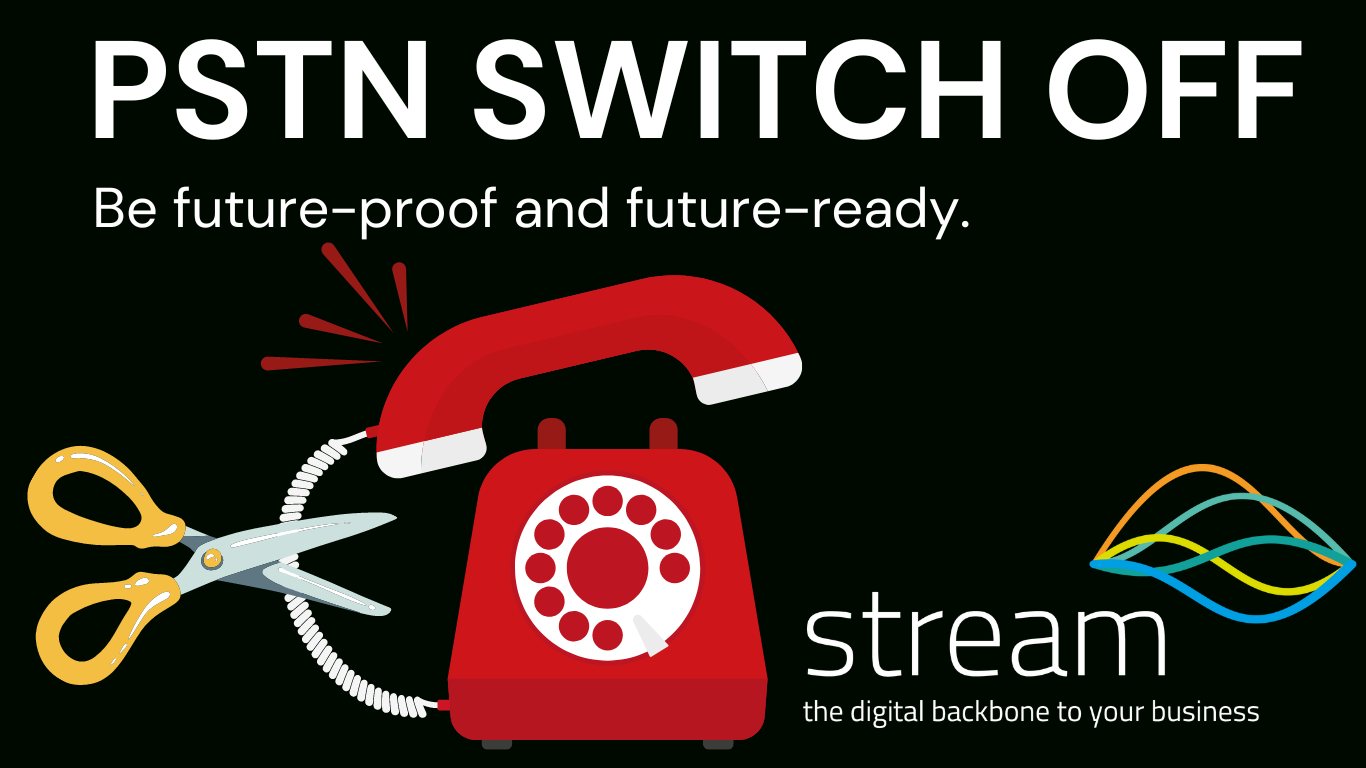 Are you ready for the PSTN Switch Off?
Find out about how you can future-proof your business communications ahead of the switch off
What Features Does 3CX Provide?
The 3CX phone system delivers the latest unified communications functionality with real-time Video Conferencing / Web Conferencing, video calls, instant messaging, CRM integration and a suite of collaboration tools.
In addition to the latest collaboration tools 3CX delivers call recording, voicemail, call queues, auto-attendants (IVR), business telephony and extensive support for remote working
3CX Core PBX Features
Phone Directory
Auto Attendant / Digital Receptionist
Headset Integration
Call Parking / Pickup
Call Logging
Ring Groups
Plug & Play Phone Provisioning
Busy Lamp Field (BLF)
Multi-level IVR
Intercom / Paging / PA Announcements
Integrated Fax Server
Voicemail Transcription
Microsoft 365 Integration
Hotel Telephone Platform
IOS and Android Apps (Mobile Apps)
Desktop Softphone
3CX Video Conferencing and Chat Features
Polls
PDF Sharing
Screen Sharing
Remote Assistance
Virtual Whiteboard
YouTube Integration
Up to 250 participants per PBX instance with Enterprise Edition
Live Chat
WhatsApp Integration
Facebook Integration
SMS & MMS
Chat Reports
Call Centre Features
Call Queues
Call Recording
SLA Alerting
Switchboard
Wallboard
Callback
Barge in / Listen in / Whisper
Call Reports
CRM Integration
Microsoft Teams Integration
Enterprise Features
Call Flow Designer
Hot Desking
Scheduled Restore
Connect Remote Offices (Bridges)
Skill-based Routing
Inbuilt Failover
Start / Stop Call Recording Rights
Custom IP Phone Logo
Standby License
How is a 3CX system licenced?
The telephone system is licenced on the number of users and simultaneous calls your organisation requires and can be scaled to thousands of users.
3CX provide three licence types; a free entry level platform licence for up to 10 users and 4 simultaneous calls with a limited feature set and then a pro of enterprise licence.
Stream Networks provide a complete managed service for 3CX which includes a licence, Hosting, PBX support, SIP Trunk Connectivity and phone numbers to ensure you have a single phone bill.
How is 3CX Configured?
Configuration of the system is provided by the 3CX management Console.
Within the management console an administrator can configure the entire business phone system from choosing your SIP Trunk Provider to user extensions, call queues, call groups, auto-attendants, and desk phone set-up.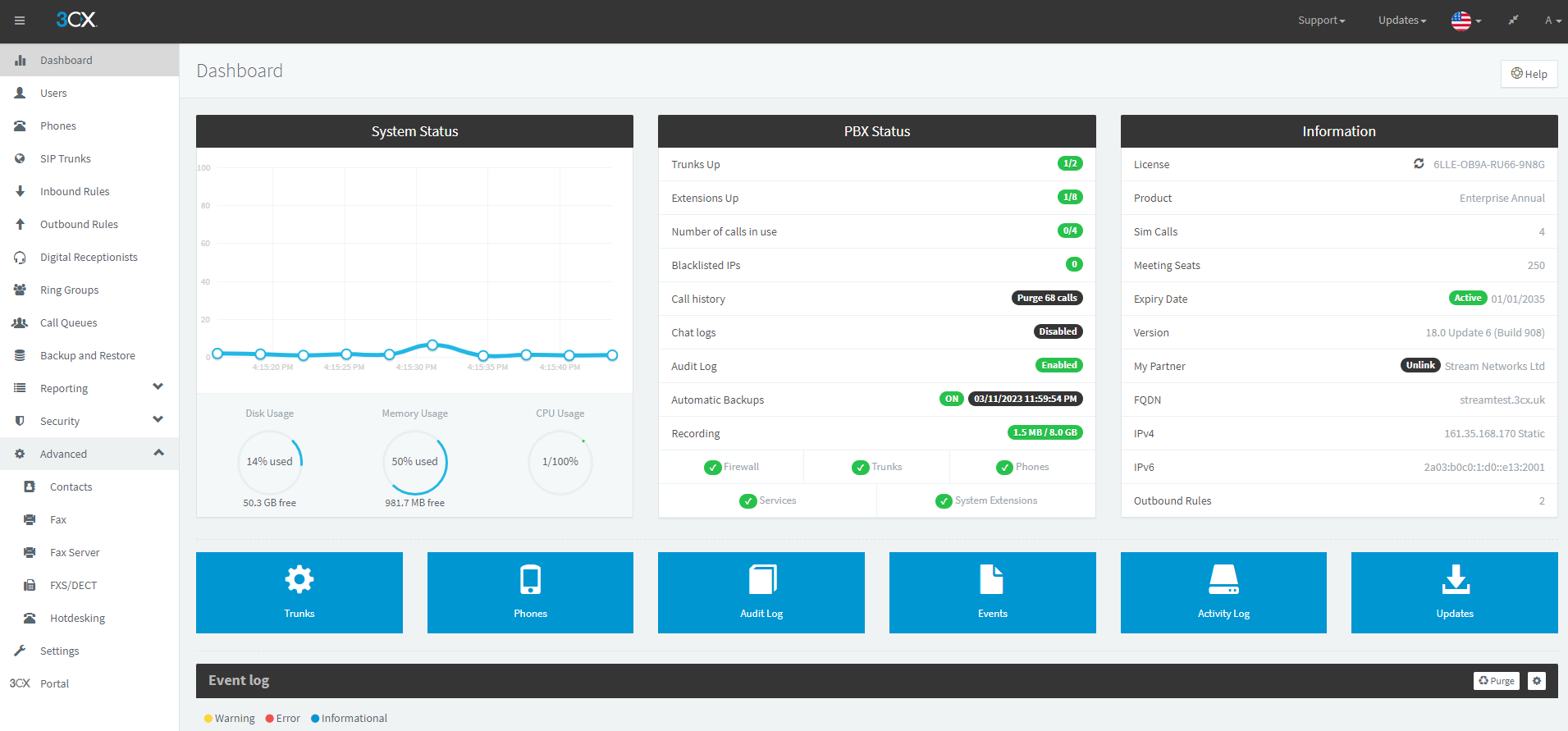 What CRM integrations does 3CX provide?
To ensure you get the most out of your telephone system it's important to ensure you have integration in to your CRM (Customer Relationship Manager) system to ensure you can track your customer and supplier calls.
3CX provides support for a number of leading CRM systems including Salesforce, Zendesk, ZOHO, HubSpot, FreshDesk, Microsoft Dynamics and more.
CRM Integrations is provided by the dedicated API for CRM. The CRM configuration is is easily configured providing the following benefits.
Contact Synchronisation – Synchronise Inbound and outbound calls from or to external numbers. Easily configure a CRM trigger to complete a contact lookup to add to Contacts, so the contact name is automatically shown on your phone's display when dealing with a call.
Call Pop-ups – when using the Web Client or Desktop App, the customer record is brought up to you automatically when you receive an inbound call.
Call Journals – Log all your calls as a call record within CRM
Chat Journals – Log your web chats as a task records in CRM.
Create a new contact – create a new contact within your CRM as soon as a new call comes in.
Click to Call – Launch calls straight from your CRM via 3CX, using the Click2Call Browser extensions for Chrome and Microsoft Edge.
What operating systems does 3CX support?
It can be built on debian linux and windows based platform as follows:
Linux Debian 9 (kernel 4.9)
Windows 10 (Pro, Enterprise)
Windows Server 2012 and 2012 R2 (Foundation, Standard, Datacenter)
Windows Server 2016 (Standard, Datacenter)
As well as supporting debian and Windows operating systems 3CX is designed as a Hosted platform either allowing business to host their 3CX platform within public or private clouds or within 3CX's own dedicated hosting environment.
What VOIP Phones does 3CX support?
3CX support a range of phones from Yealink, Fanvil, SNOM. The current models listed below are tested and 3CX will provide support.
Fanvil V62, V64, V6, X210, X7, X6, X5, X4, X3, X2, X1 and the Fanvil Hotel phones H2, H3, H5.
Snom D3 Series: D315, D385, D715, D735, D785 and the M300, M900 dect phones.
Yealink T53, T53C, T53W, T54W, T57W T4 Series: T42S, T46S/U, T48S/U, T30P, T31P/G, T33P/G and the Yealink W70, W80, W90 dect phones.
If you would like further information on deploying a 3CX phone system please contact sales on 01635 884170 or complete our contact form below.